Napura is a professional brand 100% Made in Italy natural essence. A line of products that thanks to the synergic and complementary use of high-performance active ingredients guarantees the latest generation of treatment to face, Body and hair. The packaging, with its sophisticated and modern design, is specifically patented to preserve the pure active ingredients over time.

---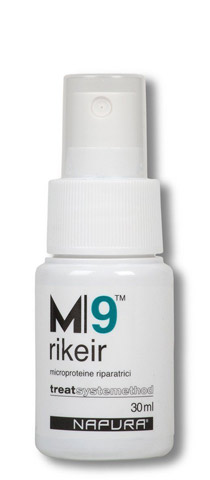 BEFORE SHAMPOO TREATMENT M9 RIKEIR PRE
Tried and tested:
This Rikeir M9 pre treatment for damaged hair is sprayed on and dried to the ends of the hair before shampoing.
Packed with Wheat , Almond and rice Proteins it repairs the structure of the hair, restores hydration and improves elasticity.

Among the attentions we should have if we want to turn damaged hair into shiny and strong hair, M9 Rikeir Pre – Kera Reconstructive with microprotein specific for brittle and weak hair and split ends-is certainly the most important. Unsuitable treatments, sun, chlorine and pollution can have a damaging effect on the keratin, altering or diminishing the ties that bind the individual protein filaments.

---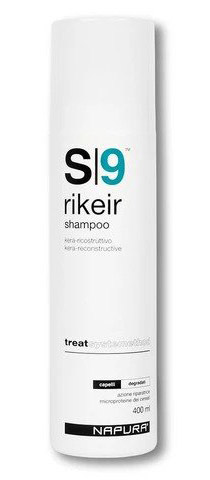 SHAMPOO S9 RIKEIR
Tried and tested:
The Rikeir S9 Kera Reconstructive shampoo.
cleanses the hair gently while strengthening and improving its texture.
It lathers well with a gentle clean scent.

S9 Rikeir is a professional kera-reconstructive shampoo specific for colored hair or with split ends, formulated to gently cleanse the degraded hair by restoring their strength and vitality thanks to natural ultra-delicate SLS free surfactants.

---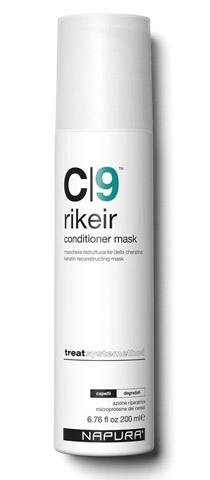 MASK C9 RIKEIR
Tried and tested:
This Rikeir C9 Keratin reconstructing conditioning mask deeply nourishes the hair.
It's unique blend of wheat and rice proteins, fruit acids, jojoba and avacado oil repairs dry and damaged hair.
Apply to clean wet hair and leave on for 5-15 minutes.

C9 Rikeir Conditioner Mask is a concentrated mask specific for the reconstruction of keratin and for the treatment of degraded and sensitized hair. Thanks to the rich and unique blend of proteins of rice, wheat, almond and fruit acids, C9 Rikeir acts directly on the damaged areas of the hair, restoring the hair structure.

---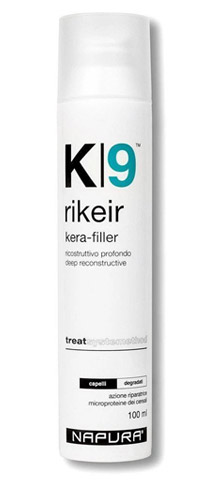 FLUID K9 RIKEIR
Tried and tested:
The Rikeir K9 Kera filler deep constructive treatment concentrate repairs and rebuilds damaged hair.
Apply to clean conditioned wet hair and style as desired, leaving hair smooth and shiny without weighing it down with a fresh delightful scent.

A real nourishing beauty concentrate, with a rich and velvety texture, it's the perfect product to complete the Rikeir treatment. It helps repair and rebuild the beauty of lengths and tips. Ideal for styling degraded hair, it defines and enhances frizzy and rebellious hair, making it exceptionally soft and shiny. Thanks to the cereal microproteins, it gives strength and body to the hair.

---
More about NAPURA RIKEIR HAIRCARE