At SolaWave, a team of veteran entrepreneurs, designers, and engineers came together to create a multifunctional tool and product line dedicated to bringing holistic beauty to the market. Backed by decades of research and specifically crafted to ensure everyone, in every tone, can feel beautiful in their own skin, SolaWave wants to make beauty and self-care accessible for all.
Nobody should spend hours on skincare that doesn't work, and SolaWave was crafted with this blueprint in mind. In just 5 minutes a day, SolaWave helps customers achieve their best skin results at-home, leading to smoother, healthier, more naturally radiant skin.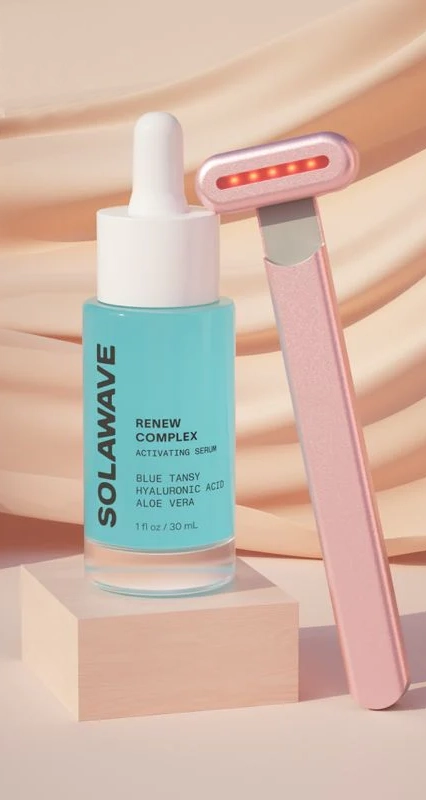 SKINCARE WAND WITH RED LIGHT THERAPY & SERUM KIT
---
---
---
Tried and tested:

The SolaWave advanced skincare wand with red light therapy is a unique skin device that fades blemishes, smooths wrinkles and fine lines, de-puffs and energizes the skin with daily use of only 5 minutes On cleansed skin apply serum and glide the wand across your face in upward and outward movements The rotating head allows you to apply to all parts of the face, jawline and neck.
Included with the wand you receive the renew complex activating serum This serum is vegan and gluten free The ingredients of hyaluronic acid, aloe Vera and blue tansy deeply hydrate and sooth the skin
---
Awarded #1 Skincare Tool of 2021 & 2022, the Solawave Wand combines four science-backed, clinically-proven dermatology technologies: Microcurrent, Red Light Therapy, Facial Massage, and Therapeutic Warmth.This kit also includes 1 30mL bottle of our Renew Complex Activating Serum, which delivers up to 4x faster results. The serum combines Hyaluronic Acid (to deeply hydrate the skin), Aloe Vera (to soothe the skin and boost the effects of microcurrent), and Blue Tansy (to promote a healthy response to inflammation).