"Since beginning our journey, we are proud to operate from our small village in Italy, where we source, grow and extract the best ingredients to create natural active skincare. Our formulas balance nature and tradition with science and research to create the most luxurious experience for your skin, using Mediterranean botanical extracts.
My mission is to share these authentic Umbrian remedies we have been using for generations with the world, for an experience that is truly farm to face.
I believe this is what true luxury looks like, today."
Gabriel Balestra
Founder of Skin&co Roma

---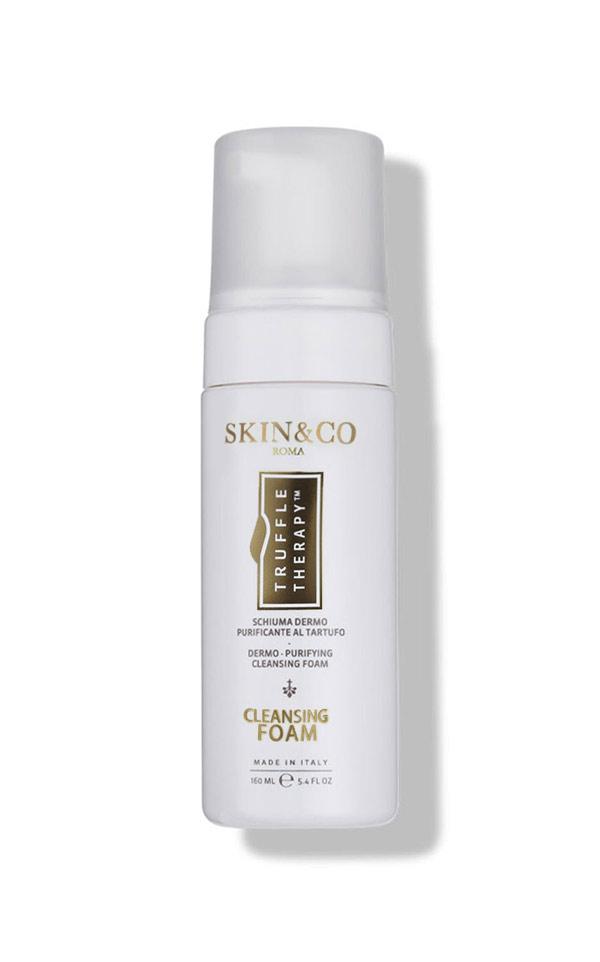 TRUFFLE THERAPY CLEANSING FOAM
Tried and tested:
This Truffle therapy cleansing foam gently yet deeply cleanses the skin, removing impurities and makeup while the powerful black winter truffle extract reduces signs of free radical damages and pre mature aging.
This foam cleanser is suitable for all skin types with a delightful scent.

Enriched with purified Italian Water, the refreshing Truffle Therapy Cleansing Foam gently cleanses impurities away, while our proprietary Black Winter Truffle Extract helps to reduce the signs of free radical damage and premature aging of the skin. With the help of Lactic Acid, Truffle Therapy Cleansing Foam brightens, hydrates, and improves the overall appearance, texture, and tone of complexion with daily use!

---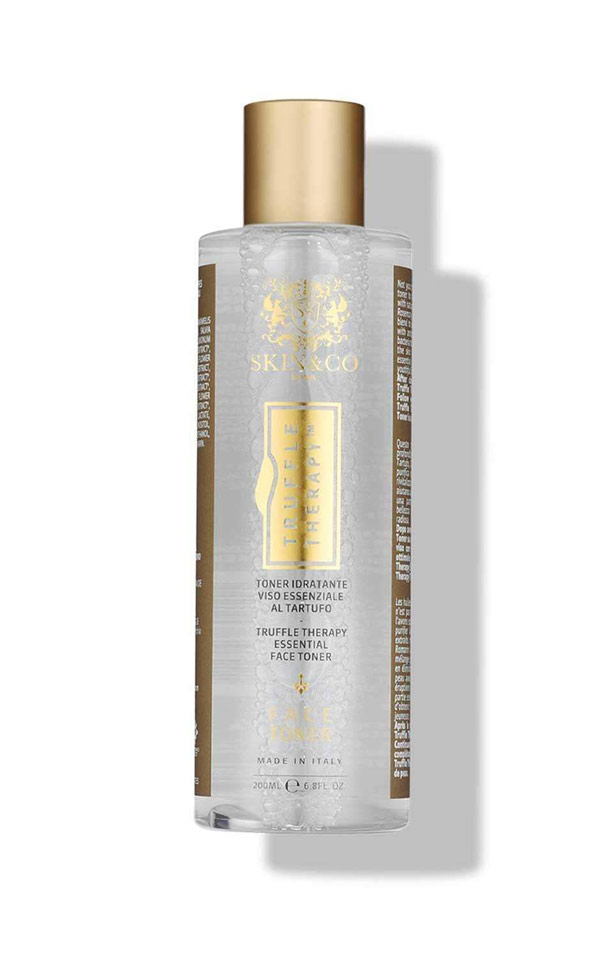 TRUFFLE THERAPY FACE TONER
Tried and tested:
The Truffle therapy toner deeply cleanses and purifies the skin and pores.
The combination of Black winter truffle, Witch hazel, Sage, Calendula and Cucumber leaves the skin balanced, toned with a healthy glow.

Gentle, powerful, soothing, and healing. Truffle Therapy Face Toner deeply cleanses and purifies pores with the antiseptic power of Witch Hazel and Sage, effectively removing impurities, clogged pores and dead skin cells to treat, heal, and prevent blemishes. The natural extracts and antioxidant properties of Black Winter Truffle, Rosemary, Calendula, and Cucumber soothes and protects from environmental and free radical damage.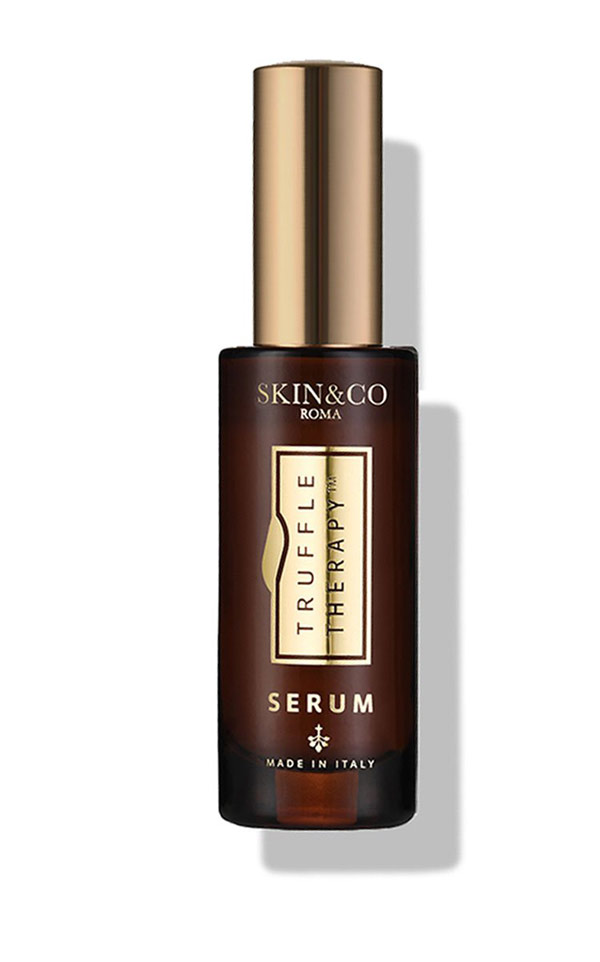 TRUFFLE THERAPY SERUM
Tried and tested:
This Truffle therapy serum is masterfully crafted in Umbria, Italy with powerful skin-renewing botanicals, vitamins and essential fatty acids.
It perfects, protects and nourishes the skin.
It's lightweight and fast absorbing.
Your skin feels super soft and healthy with a delightful scent.

Formulated around the antioxidant properties of the Black Winter Truffle, Truffle Therapy™ Serum is infused with potent skin-renewing botanicals, vitamins, and essential fatty acids to restore skin's natural vibrancy and radiance. Masterfully crafted in Umbria, Italy, this powerful, multitasking skin-perfecting treatment soothes and refines the appearance of uneven textured skin, revealing a healthier complexion.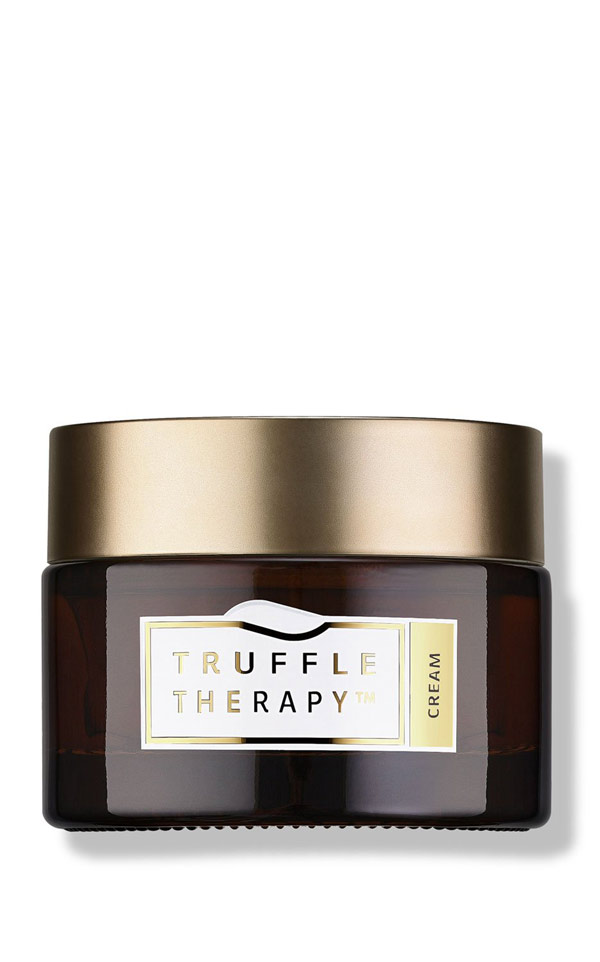 TRUFFLE THERAPY CREAM
Tried and tested:
The Truffle therapy is a deluxe rich nourishing treat for the skin.
It deeply moisturizes without feeling oily or greasy on the face and neck.
Ideal for dryer skin types or an extra moisturizing occasional treatment at night for combination skin types, leaving skin hydrated, supple and smooth.

Balanced, lightweight & powerful, Truffle Therapy™ Cream provides nourishing hydration for radiant results and rejuvenated skin. Featuring an advanced Hyaluronic Acid complex of three molecular weights to target dehydration and dry skin, this rich crème formula absorbs quickly delivering multilayer hydration to skin throughout the day. Packed with superantioxidant protection from free radical and environmental damage, Black Winter Truffle extract reverses signs of premature aging while improving skin's natural radiance, as essential fatty acids, vitamins, and minerals perfect complexion's texture and tone. Our innovative formula leaves skin silky smooth thanks to an added layer of protection including featherlight Shea Butter and skin-loving Jojoba Oil, ensuring skin retains moisture. For a flawless start to your day, Truffle Therapy Cream can also be used as a primer prior to makeup application.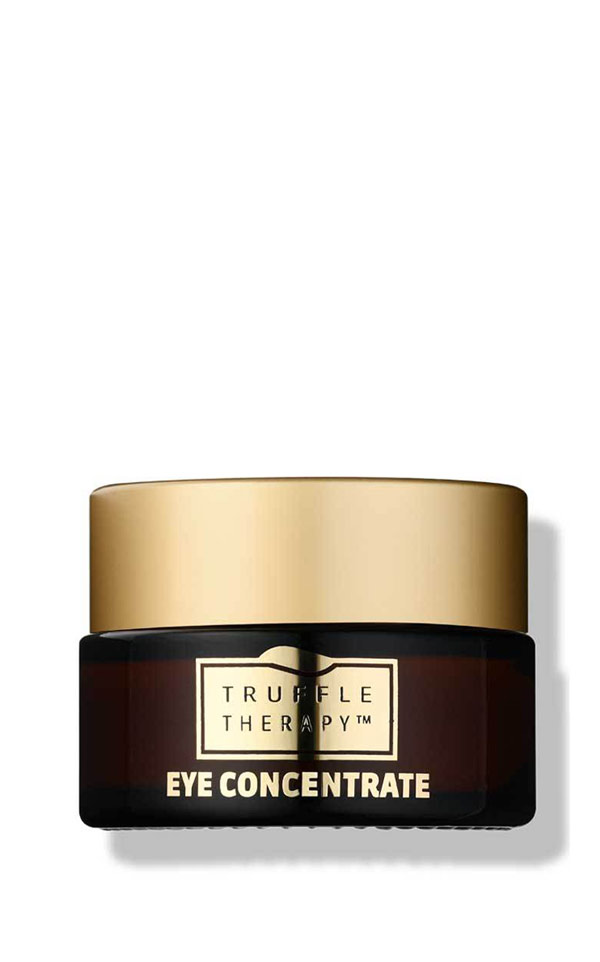 TRUFFLE THERAPY EYE CONCENTRATE
Tried and tested:
The Truffle therapy eye contour concentrate reduces puffiness, dark circles and fine lines.
It nourishes and rejuvenates the delicate skin around the eyes for a youthful, fresh and radiant appearance.

Created to target the appearance of "tired eyes", puffiness, bags, dark circles, and signs of aging – Truffle Therapy Eye Concentrate has been perfected through decades of research to hydrate, nourish and rejuvenate the delicate eye contour. Formulated with antioxidants, essential fatty acids, vitamins to protect against free radical and environmental damage, and hydrolyzed fruit extracts to energize and reveal brighter eyes, Truffle Therapy Eye Concentrate works best as part of the Truffle Therapy regimen to achieve glowing results.

---
More about SKIN&CO ROMA