Pura D'or is a natural hair and skincare company.
All products are made with 3 core values purity in every bottle, in peace with Mother Earth and proven results for their customers.
With pure ingredients sourced from around the world such as the Amazon jungle, the Himalayas and the ocean of Jeju islands.
Each ingredient is tested for purity and certified wildcrafted or organic, even the water used in the products is filtered through a 7 stage reverse osmosis and distilled.
All their products are made in small batches with love in the USA using ingredients that have been proven effective for thousands of years throughout history.
With each bottle of product purchased a tree is planted. Trees planted so far 100,808 and promise to keep planting until 10 million new trees.

---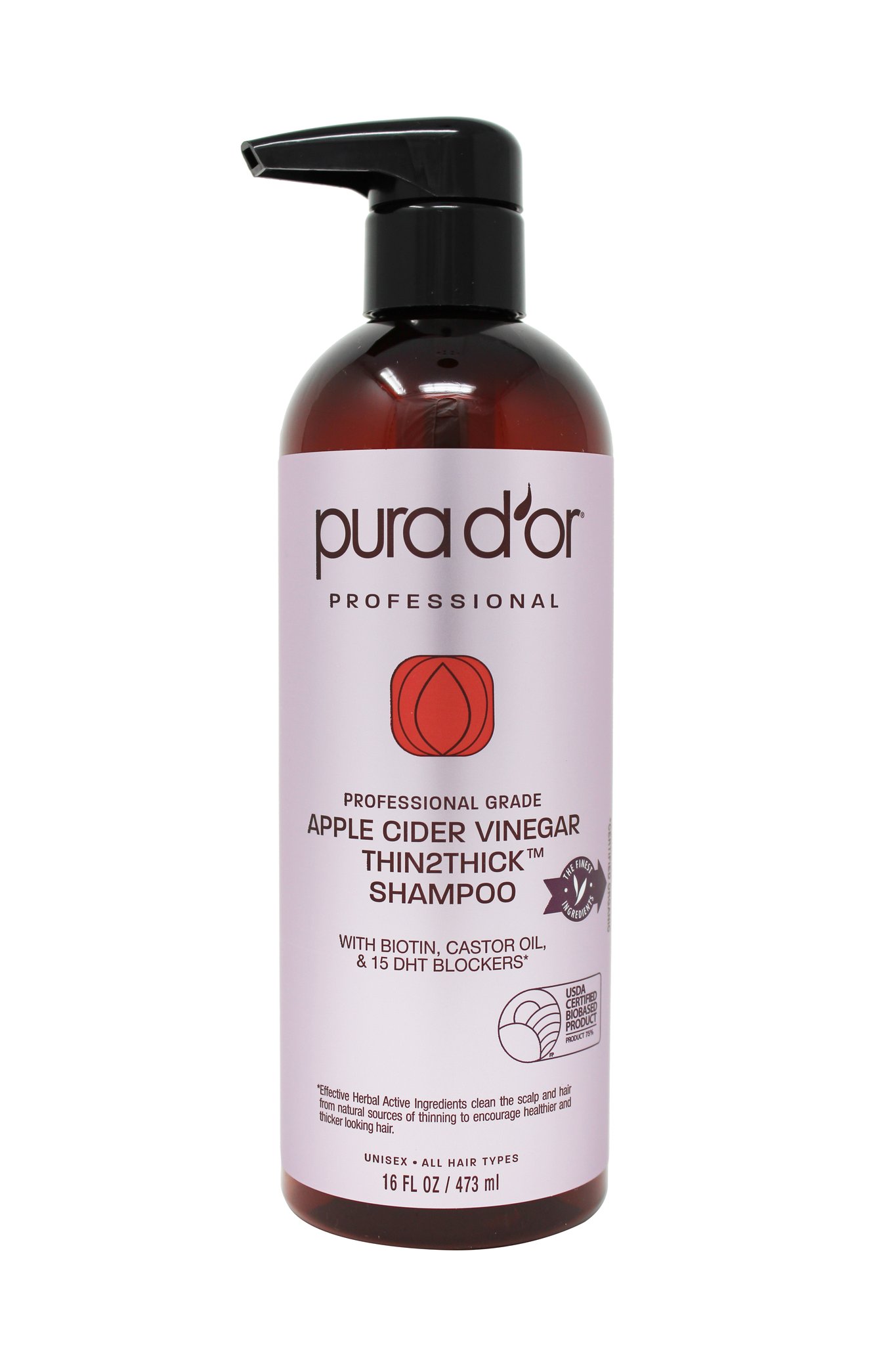 Apple Cider Vinegar Thin2Thick Shampoo
Tried and tested:
This apple cider thin2thick shampoo from Pura d'or Professional Line is made from gentle cleansing ingredients to detoxify the scalp and hair from build up and environmental toxins while balancing the PH level.
It lathers and rinses well and promotes thicker, fuller, healthier hair with a slight not overwhelming apple cider vinegar scent with a hint of lavender leaving hair and scalp feeling clean and refreshed.

PURA D'OR Apple Cider Vinegar Shampoo is the best shampoo on the market thanks to our philosophy of only using the most wholesome botanical ingredients found on Earth. Our shampoo's clarifying & cleansing properties naturally helps remove buildup, residue, and dirt while infusing superior hydration to promote thicker, fuller hair. With 15 Key Active Ingredients like Castor Oil and Biotin, our shampoo will help you combat thinning hair and shedding at the source, whether it's due to follicle blockage, damage from overuse of hair products, or environmental toxins. Our Apple Cider Shampoo helps repair and replenish your hair with a potent blend of vitamins and nutrients to restore your hair back to its naturally soft, full, and luxurious state.
USDA Certified Biobased Product.

---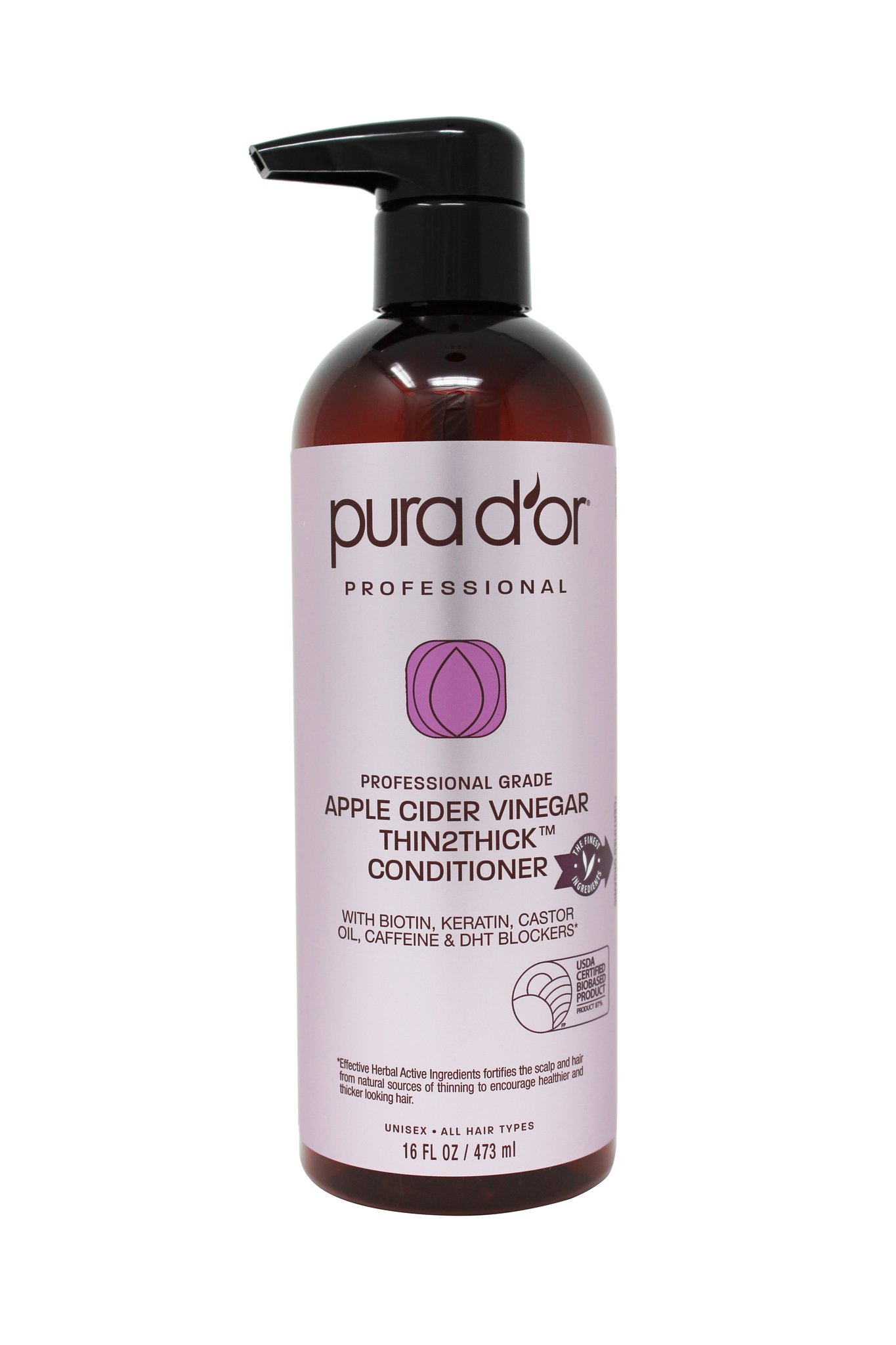 Apple Cider Vinegar Thin2Thick Conditioner
Tried and tested:
The Apple cider vinegar thin2thick conditioner from Pura d'or Professional Line, has a thick creamy texture.
Apple cider vinegar is known to exfoliate hair and scalp while locking in moisture.
The potent blend of Biotin, castor oil and other powerful ingredients create fuller hair while keratin and caffeine strengthen the hair to its roots resulting in silkier, softer, shinier hair strands.
As the shampoo a subtle Apple cider vinegar scent with a touch of peppermint.

PURA D'OR Apple Cider Vinegar Conditioner is here to wholesomely and harmoniously provide a deep cleanse to your hair and scalp from all dirt, buildup, and residue causing dryness, itching, flakes, or even thinning hair. Apple Cider Vinegar is known to exfoliate the hair and scalp while locking in hydration within the hair follicles to support a healthier, more moisturized scalp environment for shinier and stronger hair. The potent botanical blend of Biotin, Castor Oil and other Key Active Ingredients encourages a reduction in thinning hair. Keratin and Caffeine strengthens the hair to its roots for silkier, shinier, softer strands.
USDA Certified Biobased Product.

---
MORE ABOUT PURA D'OR