Want the full Pink Charcoal whitening experience? Then the Super Bundle is the one for you. Including the Organic Activated Charcoal Teeth Whitening Powder, the Day and Night Toothpaste duo AND our Charcoal Bristle Toothbrush, the Super Bundle has all your oral care needs covered.
The Activated Charcoal Whitening Powder works to adsorb mouth toxins and plaque, not only improving your oral health, but also removing surface stains in the process! Add the Day and Night Toothpastes to the mix for full day freshness and protection against future stains. Finally, the Charcoal Bristled Toothbrush has specifically designed soft bristles infused with charcoal to assist in the whitening process.

---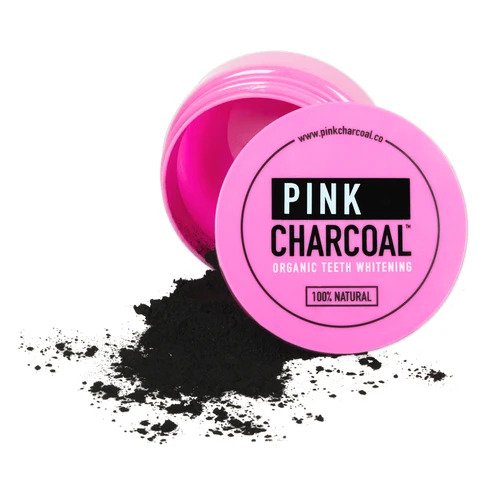 Organic Charcoal Teeth Whitening Powder
Tried and tested:
This pink charcoal tooth whitening powder is 100% natural with no harmful whitening chemicals, it's detoxifying powdered coconut shell charcoal that's it.
It brightens and whitens, prevents and cures gingivitis and freshens the breath.
For ultimate fast results use every evening In combination with the night toothpaste.
Dip your wet toothbrush into the charcoal powder and tap off any excess (a little goes a long way!) brush teeth in gentle circular motion for 2-3 minutes ,rinse well and follow up with the night tooth paste.
Your mouth will feel extremely clean and healthy

Harmful chemical teeth whitening is a thing of the past, polish your teeth and strengthen enamel the healthy, vegan way!
Our 30g jar will last 1-2 months and consists solely of detoxifying powdered coconut shell charcoal to keep your beautiful mouth in tip top condition.
– Brighter and whiter smile!
– Prevents gingivitis for healthier gums
– Freshens breath
– No harmful chemicals
– Extreme clean feel

---

Day and Night Toothpaste
Tried and tested:
The day and night Pink Charcoal toothpastes are ideal in use with the charcoal powder.
The day paste prevents stains from happening during the day and the night paste with activated charcoal helps remove stains and detoxify the mouth.
Use all three in combination for a pearly white smile and happy mouth.

Our Day and Night Toothpaste has been specially formulated to clean, protect and whiten; all while giving you minty fresh breath!
The Day Toothpaste prevents stains from occurring throughout the day, while our Night Toothpaste contains activated charcoal to help remove stains and detoxify the mouth.
For best results, use in conjunction with our Activated Charcoal Whitening Powder.

---
More about PINK CHARCOAL