Collagen is one of the main proteins that's present in your body and it helps with many functions which includes building muscle, preventing bone loss, alleviating joint pain and dryness, and improving skin health by reducing wrinkles and dryness. Collagen supplements are a popular option for those looking to boost their natural production and combat these signs of aging that show up as collagen production lessens over the years.
One of the main benefits of taking a collagen supplement is the effects it has on your skin. Whether you're looking to reduce wrinkles, smooth out any bumps or blemishes, or just looking to maintain that healthy, youthful glow, collagen supplements may be for you!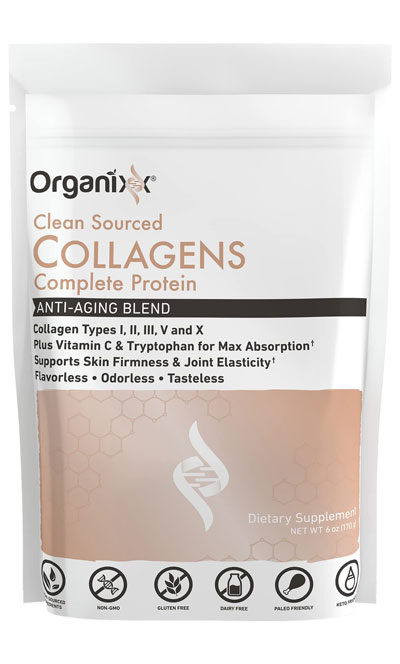 ---
---
---
Tried and tested:

The Organixx collagen powder is a powerful anti aging complete protein supplement. It is odorless and tasteless and can be mixed with water, juice, smoothies and even with coffee or tea. Made with 5 collagen types I, II, III, V and X with added Vitamins C, B6, zinc and Silica for increased bio availability.
Collagens are derived from beef, chicken, fish and eggshells. Drinking this daily helps reduce the appearance of fine lines and wrinkles, Noticeably thicker hair and stronger nails, it lubricates the joints, it supports cardio vascular health and protects the liver and enhances the gut health.
---
BENEFITS: Helps reduce the appearance of fine lines & wrinkles from the inside out* Lubricates joints for greater mobility & reduced discomfort* Promotes thicker hair & stronger nails* Supports clear arteries & good cardiovascular health* Helps rev up metabolism for easier weight management* Protects the liver & enhances gut health*