"Our commitment to ingredient quality and efficacy brings out the most potential from the skin for outstanding long-term results. For the first 20 years, Gunilla of Sweden® products were available to physicians, licensed professionals, and medical spas exclusively. Today, we offer you the same sophisticated yet straightforward professional botanical skincare to feed, heal, and renew the skin. Why? Because we recognize that clearer, youthful, and more beautiful skin is vital for a healthier, more content life."

---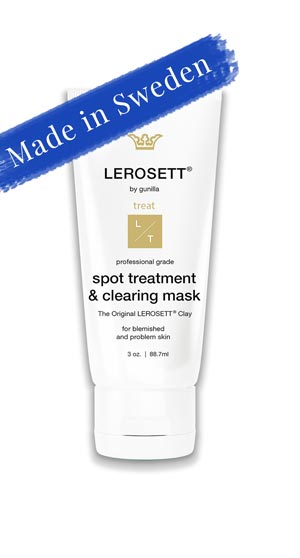 LEROSETT Spot Treatment & Clearing Mask
Tried and tested:
This amazing multi-use Lerosett spot treatment and clearing mask has been an award winning professional skincare treatment for over 33 years.
The 100% organic clay clears pimples, blackheads, congested pores and acne prone oily skin deeply yet gently, gentle enough to be used daily till skin issues have cleared.
It can be used as a spot treatment and face mask and even a thin layer overnight, also ideal during these times under our Covid protection masks preventing and clearing "maskne"

LEROSETT® Spot Treatment & Clearing Mask (Clay Treatment) has been an award-winning professional skincare treatment for over 33 years. Our proprietary 100% organic clay is effective against pimples, acne, oily skin, blackheads, congested skin, detoxifies & much more.

---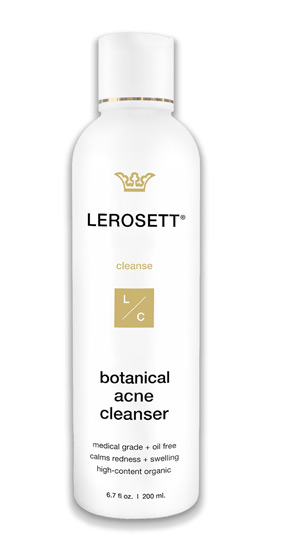 LEROSETT Botanical Acne Cleanser
Tried and tested:
This Botanical Aloe based acne cleanser dissolves oils, clears acne, blackheads and breakouts very effectively yet gently.
It lathers well, a little goes a long way with a delightful fresh citrus scent.
For ultimate results use daily in the morning and evening results are soft, clean, fresh, clear and happy skin.

LEROSETT® Botanical Acne Cleanser is our award-winning organic aloe-based acne face wash that dissolves oils without over-exfoliating, leaving skin feeling soft, clean, and refreshed. It's gentle, soothing, non-drying, oil-free & effectively clears pimples, blackheads, oily & acne-prone skin.

---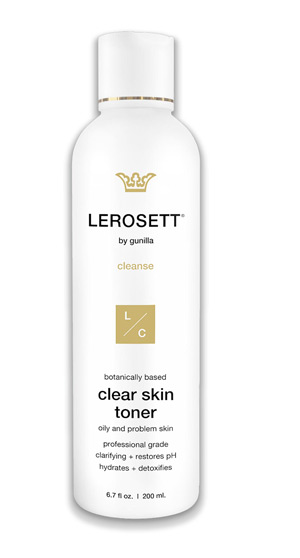 LEROSETT Clear Skin Toner
Tried and tested:
The Clear skin toner is organic and Aloe based.
It removes any traces of dirt, oil, dead skin cells and debris from the face and balances the skins natural PH.
Apply with a cotton pad to cleansed skin day and night.

LEROSETT® Clear Skin Toner is our spa-grade organic aloe-based based skin toner. Effectively helping prevent the formation of pimples & blackheads by eliminating the minute traces of oil and dead skin cells that can cause pimples. Alcohol-free works to tighten and tone pores, while balancing your skin's natural pH balance.

---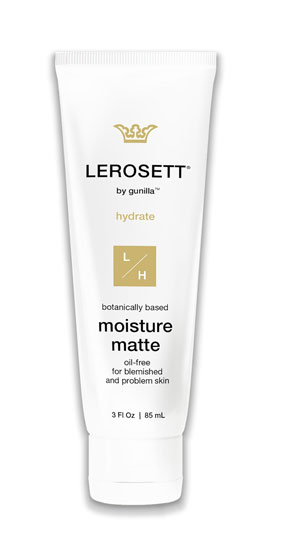 LEROSETT Moisture Matte Clear Skin Moisturizer
Tried and tested:
The moisture Matte clear skin moisturizer is lightweight yet deeply nourishing without feeling oily or greasy, it absorbs fast and is long lasting.
It sooths and heals the skin while controlling pimples and breakouts, it's fragrance free and can be used on even extremely sensitive skin for a clear gorgeous complexion.

LEROSETT® Moisture Matte Clear Skin Moisturizer is our best selling, most versatile, oil-free botanical moisturizer. This fast-absorbing, non-greasy moisturizer is formulated to help soothe and heal problem skin without causing breakouts with virtually no aroma.

---
More about GUNILLA OF SWEDEN