IT'S A 10 began with the idea that feeling good about your hair should be easy. Over the years, hair care has gotten confusing. Many brands have filled store shelves with an array of products that only seem to accomplish one thing. People have had to create their own concoction of products to get the results and hair health they are looking for.
It's a 10 has changed that. Our hair care products provide exceptional results designed to deliver a combination of 10 benefits – all in one bottle.

---

IT'S A 10 MIRACLE BRIGHTENING BLONDE SHAMPOO
Tried and tested:
This UV protecting, gentle cleansing blonde shampoo tones brassiness and brightens highlights with a clean fresh scent.
Bring out your best-possible blonde with a daily shampoo that's designed to address the special needs of platinum blondes, ash blondes, and every blonde in between. Enhances highlights and refreshes golden hues with a gentle cleansing that protects against fading, retains color, and tones down brassiness.

---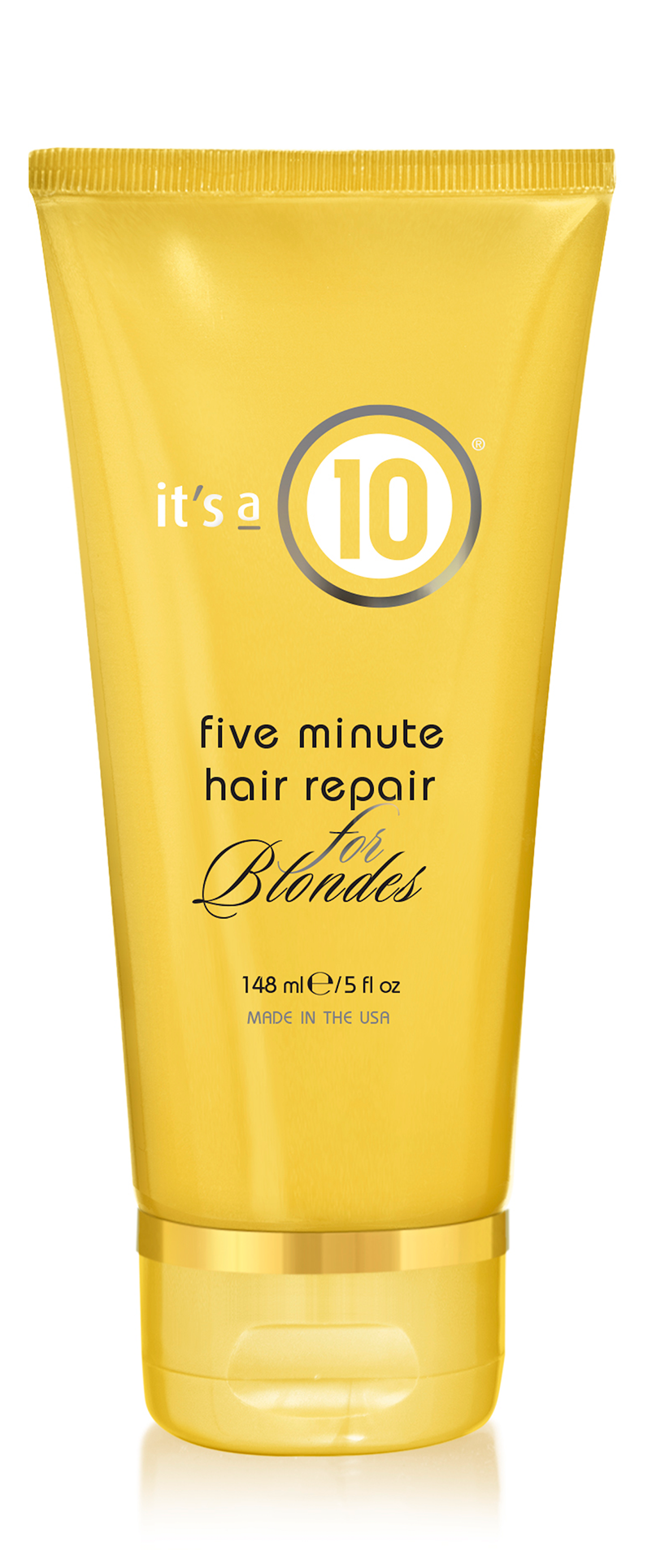 IT'S A 10 MIRACLE FIVE MINUTE HAIR REPAIR FOR BLONDES
Tried and tested:
The 5 minute blonde hair repair deeply nourishes while reducing brassiness and smoothing all shades of blonde hair.

It's a 10's Five Minute Hair Repair for Blondes…The best way to love being blonde!
Respond to the special needs of natural, color treated, or highlighted blonde locks with It's a 10's Five Minute Hair Repair for Blondes. Now, it only takes five minutes and one product to repair damage, reduce brassiness, maximize brightness, and smooth and seal strands from root to tip. Lightweight and infused with natural color enhancers, It's a 10 Five Minute Hair Repair for Blondes is one of the easiest ways to protect and flaunt those beautiful golden tones.

---


IT'S A 10 MIRACLE LEAVE-IN CONDITIONER FOR BLONDES
Tried and tested:
The miracle leave in conditioner for blondes defrizzes, detangles, restores and enhances all shades of blonde with a lovely scent.

Our Miracle Leave-In for Blondes makes it easier for you to have more fun! Specially formulated to meet the needs of natural and color-treated blonde, Miracle Leave-In for Blondes de-frizzes, detangles, restores moisture and enhances highlights, shine, and manageability without any dulling residues. Plus, all blonde-enthusiasts can finally say goodbye to heat damage and brassy tones and say hello to vibrant, healthy color. Just a small amount of this powerful formula will keep your color looking great, even months after leaving the salon!

---