The desire was to create the world's first transparent, water-based, alcohol-free perfume, complemented with a vegan-friendly hair and body range.
Two female best friends – one chemistry scientist, fascinated by sense of smell and perfumery, and one environmental scientist, devoted to nature and healthy living- worked together to do just that.
TIYATI was born.
A luxury brand of innovative, natural cosmetics and exquisite fragrances: inspired by the enchanted places and blissful memories of the founders' childhoods.
TIYATI products are 100% vegan, 99% natural and cruelty free. They are designed to work in harmony with pregnant or nursing women, children, people with sensitive skin, and for those who wish to abstain from using alcohol.

---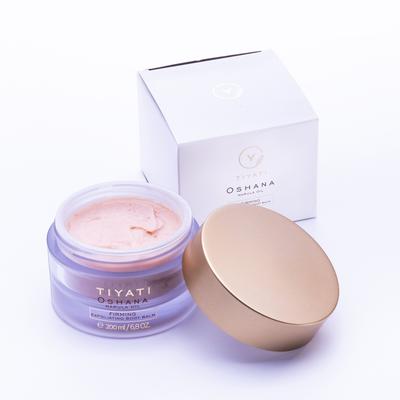 OSHANA FIRMING EXFOLIATING BODY BALM
Tried and tested:
This Tiyati Oshana firming exfoliating body balm is made with Himalayan salt, Marula oil, Aloe butter and apple extract. It smooths, softens, firms and strengthens the skin and can help diminish the appearance of stretch marks and cellulite.
The body scrub can be used on dry skin before bath or shower for an intense exfoliation or on wet skin for a more gentle scrub.
It rinses away easily leaving skin silky smooth with a delightful scent.

Exquisite, gently exfoliating body scrub made with Himalayan salt and precious marula oil.
Inspired by the Oshana region of Namibia, Africa, where people say the miracle oil was gifted to them by sprits due to its exquisite properties.

---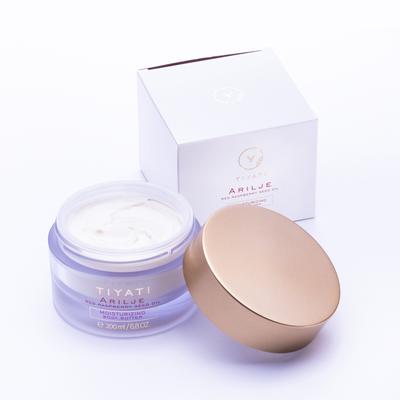 ARILJE MOISTURIZING BODY BUTTER
Tried and tested:
This luxurious Tiyati Arilje moisturizing body butter is made with Rasberry seed oil and Shea butter.
It deeply hydrates and nourishes without leaving a heavy or oily residue just a delightful gentle scent and super happy, soft and balanced skin.

Moisturising and enhancing body butter made with nurturing raspberry seed oil and shea butter.
Inspired by the Arilje region in Serbia, Europe: the heavenly Earth where you can find "red gold"- treasured raspberries with their invigorating aroma and uniquely nurturing properties.
Red raspberry seed oil strengthens the skin's lipid barrier, increases hydration and elasticity, and regulates the sebaceous glands, with a soothing, healing and calming effect. Recommended for sensitive, dry and allergy-prone skin.

---
More about TIYATI SKINCARE